I think about this with every product I build and market.
Why do people buy designer shoes? They buy status.
Why do people buy Starbucks? They buy into social pressure.
Why do people buy Apple? They buy the story of being different, a creative.
Why do people buy Tesla? They buy the story of themselves being forward-driven.
Why do people buy conferences/events? They buy access.
What are you really selling?
Your customers are probably buying your products for a completely different reason than you think it is.
If you sell insurance, they're probably buying the sense of security.
If you sell marketing services, they're buying hope and anticipation for a revenue increase.
If you sell fitness programs, you're selling the feeling of empowerment and confidence.
Raising capital for your business.
My friend, Jesrina Arshad, founder of PurelyB (who spoke at Underdog Influence Con) is running a fund-raising workshop that teaches you how to raise capital (money) for your business.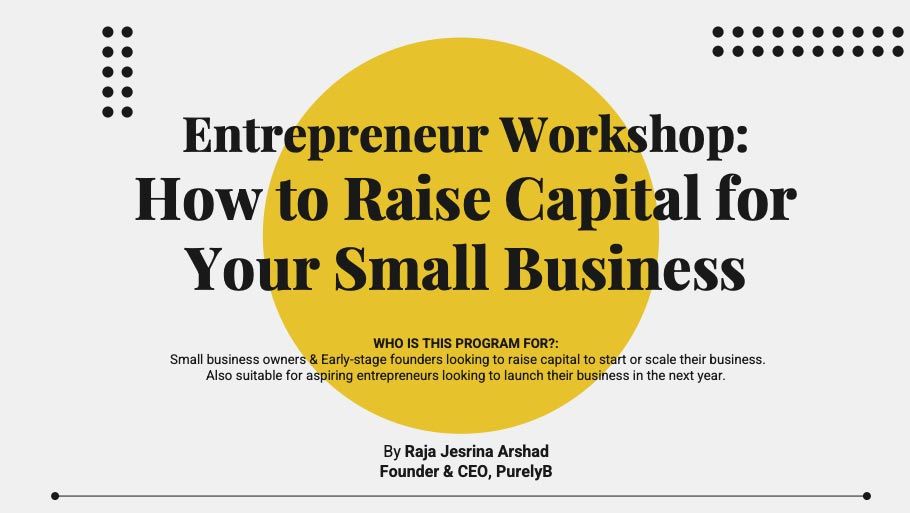 She will share her experience of raising RM8 million for PurelyB despite having little revenue in the first few years.
Three other mentors, Patricia Lim (Cirles of Angels), Elain Lockman (Ata Plus) & Dave Chang (SV Vision), will be joining her in the workshops.
Some highlights include:
Learning the available funding options.
How to sell your vision to investors.
How to prepare documents (like financials, etc.)
Get feedback on your investment pitch and tweak it.
The 2-day workshop starts this weekend, 7th - 8th October.
It costs RM1,480, and Jesrina has been kind to give Daily CMO readers a RM592 discount.
Watch an intro video Jesrina recorded here.
And if you're keen, register your interest using this form.
But wait... what's the real reason you'd join a workshop?
Apart from learning new skills, two amazing things happen in workshops like this.
First, it's a workshop. You don't just watch a bunch of videos and do nothing. You get to work. We can only get better by doing.
Second, you're buying access. Similar to students who attend Harvard, apart from education, the networking opportunity at the workshop may give you back crazy ROI.