Most businesses only focus on finding new customers.
More Facebook ads! More cold calls!
But they forget the best salespeople in their business... their customers!
Business gurus will tell you to focus on existing customers. It's easier (and cheaper) to get a repeat sale or a referral, compared to finding a new customer.
But here's the thing.
I've consulted and worked with enough businesses to know that it's not that they forget about their customers. More so – most businesses don't know how to ask their customers for referrals.
You can't force referrals.
Ironically the more you try asking your customers to refer new customers – the more it wouldn't happen.
When I was at LEAD, we sent weekly newsletters to our audience. They were mostly webinars, workshops, and event attendees.
Even when they became customers, we continue keeping in touch with them through our newsletters.
Over time, our customers began referring new customers to us, without us having to ask.
It came to a point where we saw referrals as a great customer source, so we decided to start a referral bounty program.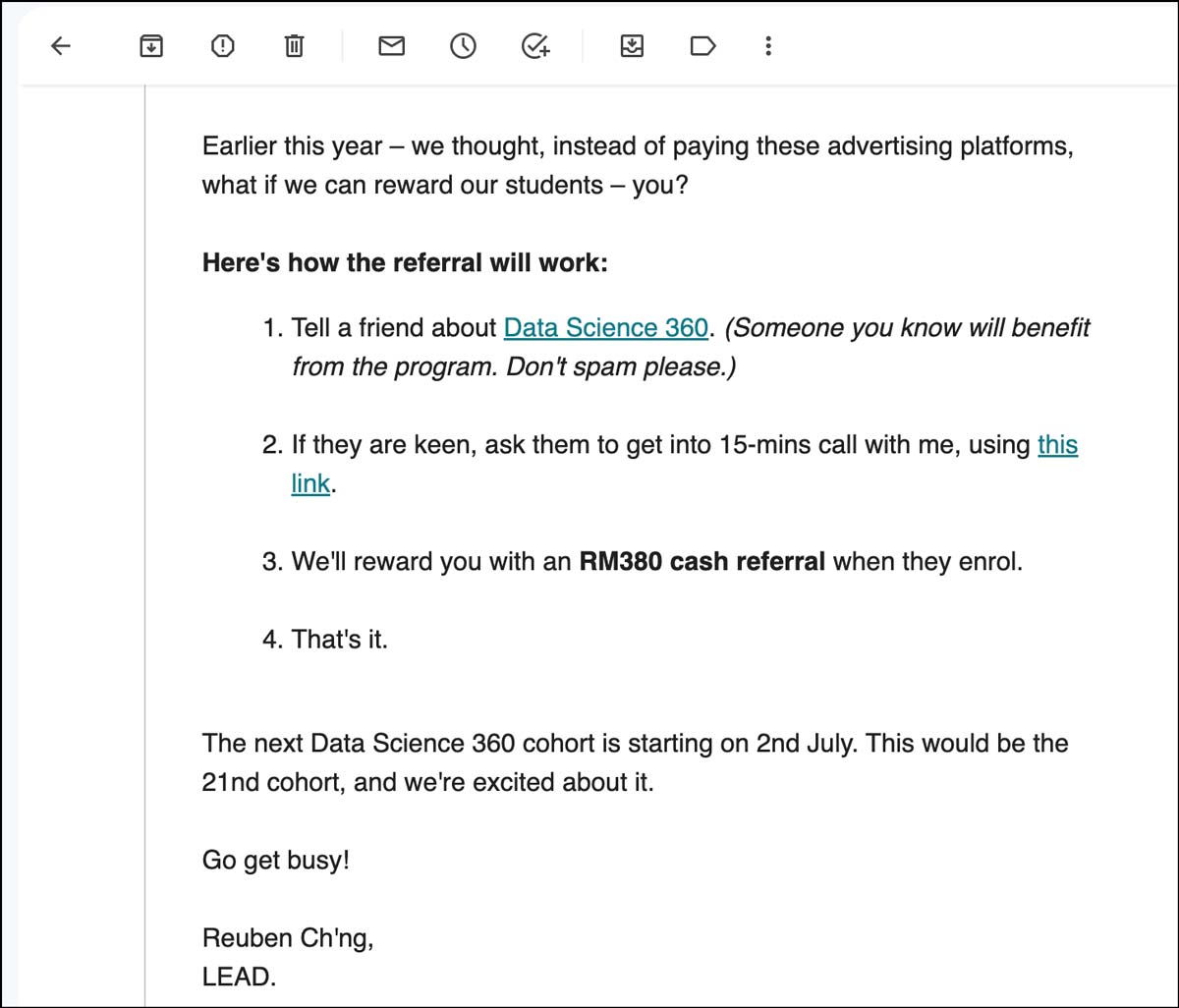 And... the referral program bombed.
We got 0 referrals.
How to get referrals from your customers.
Yes, it's still important to ask for referrals.
But two things to note:
You need to educate your customers on the type of referrals you want. (Be specific.)
When possible, avoid offering monetary rewards.
Your customers won't be able to refer the customers you want if you don't tell them who you're looking for.
So if I offer piano classes for kids, instead of asking like this:
"Hey customer, do you know anyone who might be interested in piano classes"?
I would phrase my question like this:
"Hey customer, do you have a friend who is a mother with children in primary school?"
This helps your customer visualize an ideal person in his/her mind, and increases the chances for them to refer you to the right prospects.
And whenever possible, avoid offering monetary rewards for referrals. "Hey, we'll give you RM1,000 for every new customer you send us". Sounds good. But it directly alters the main motivation of why someone wants to refer you customers.
Truth be told, most of us are recommending products and services to our friends – on a daily basis! From the latest movies you watched to the new smartwatch you bought – we all can't seem to shut up. We want to tell our friends & families.
We do that when we truly love a product, and not because we want a commission.
It's the same for your customers.
Focus on building a great product and experience for your customers, so that they can't help but tell other people about it.
How to prompt your customers for referrals.
That doesn't mean you can't prompt or motivate your customers to give you referrals.
You just need to do it elegantly without hard-selling.
Here's the best way to do it.
Keep in constant contact with your customers.
There's too much noise in the world. Hundreds of businesses and brands popping up and closing every day. Social media is filled with more harmful dopamine-filled content, compared to actual drugs.
The only way for your business to stand a chance is to build a relationship with your customers. So that when there comes a need, your brand is first to cross your audience's mind.
Some ways to keep in constant contact with your customers:
Send weekly newsletters.
Bring people together in a Facebook group to discuss a common topic.
Send periodic update messages on Whatsapp.
Get people into a Telegram group.
Build a Discord community for your customers.
Find what works for you.
And then keep doing it consistently.
---
Set up a WhatsApp automation system.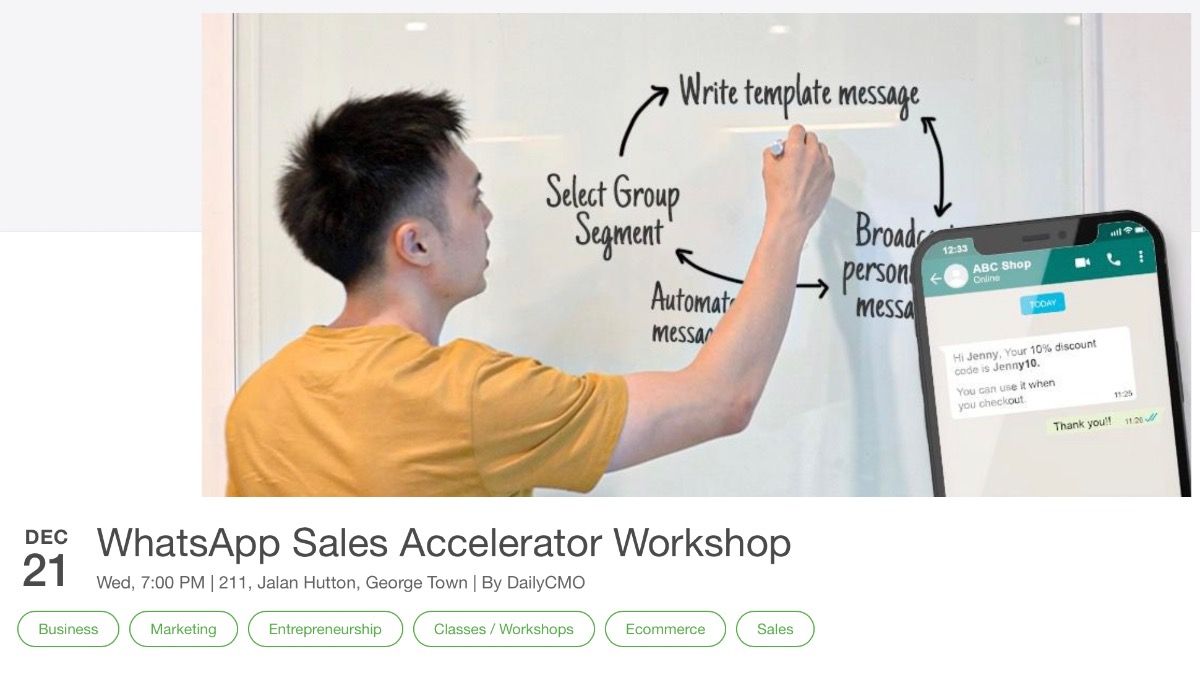 Most people (your customers), at least in Malaysia – use WhatsApp. It makes perfect sense for your business to keep in touch with customers on their favourite messaging platform.
But instead of spending your time sending messages to your clients manually, one by one, use a desktop application to send bulk personalized Whatsapp messages.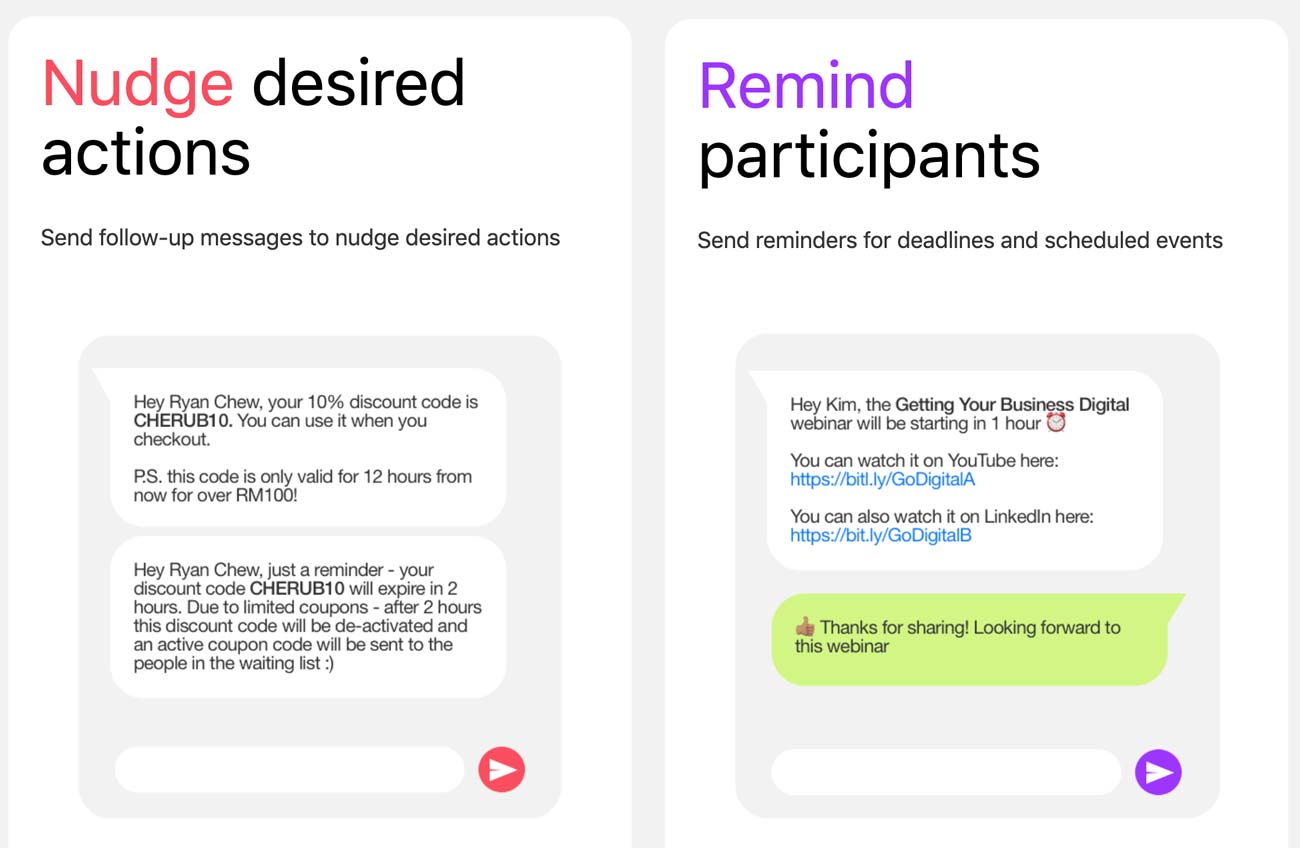 I'll teach you how to set up an inexpensive Whatsapp automation system in a casual workshop, WhatsApp Sales Accelerator workshop this Wednesday, in Penang.