Are podcasts still a thing? They are nothing new.
Yet, you still see new local podcasts popping up on your Spotify recommendations from time to time.
Is it a growing medium for edutainment in Malaysia? If we look at the US, podcasts are projected for 160 million listeners by the end of this year.
That's a lot of ears.
🧠
Underdog Con is back on 12th May
. This time round, it'll be held in a cafe! Learn advertising strategies from the best minds in advertising. Network and do business with other 200 attendees.
Okay, but what about the Malaysian market?
I mean, don't all Malaysians have super short attention spans?
The strange thing is that we listen to podcasts when multitasking.
Sort of like how a security guard listens to the radio while on the job. It's entertainment when going through crazy jams or doing chores.
Some listen to podcasts to fill their time – to feel like they are a productivity god. No downtime ever! Learn while you exercise!
Anyway...
Do podcasts drive results from a marketing standpoint?
Podcasts don't make a good medium for direct marketing. That means don't expect to release a podcast and expect to see listeners buying your products straight away.
Except if you're already someone with a huge following.
But podcasts make a great way for your audience to access the personal side of your brand or business.
At the end of the day, it comes back to WHY you're even recording a podcast. Many people do it just because they see their competitors doing it.
So they just copy.
Some pros & cons of podcasts.
Pros:
Builds your credibility and reputation.
Brings your audience, 'behind' the brand.
Easy to repurpose from content you make for other platforms – and vice versa.
Cons:
Hard to get immediate sales.
Sales conversions are not easily trackable.
Requires time and effort to produce high-quality content.
Upfront investment into recording gears like microphones.
So... should you start a podcast?
The short answer is yes.
Podcasts are a great way to allow your audience to tune into conversions, and your thought process and access the personal side of your brand.
3 things to ask yourself:
Is it one of your goals to build a personal brand?
Are there existing podcast shows in your niche? If not, could you potentially be the leader in the space?
Is your audience already asking you for advice/tips, that you can share in an audio content format?
What makes a podcast stand out is usually high-quality content, of course. But on top of that, the reason some podcasts do so well is that it provides listeners access to the 'behind-the-scenes' of a brand or persona.
Getting the right podcast equipment.
Bad audio quality = a recipe for listeners to never come back.
The worse mistake you can do is to publish a podcast with horrible audio quality. So you need basic recording equipment.
You obviously don't think shouting into an Apple Earpod microphone is going to help you grow a podcast with a million listeners, do you?
You do have to invest in some equipment. But they don't cost too much. Here are some quick recommendations.
Microphones below RM1,000.
1 - Samson Meteor Mic (RM370)
This is a basic, entry-level USB microphone that you can consider on a budget. The Meteor Mic is a condenser microphone that's compatible with your laptop, iPad, and even phone.
You basically connect it to your device, launch an audio recording software, and talk. That's it.
What I love about it is that it's foldable and small to carry everywhere too.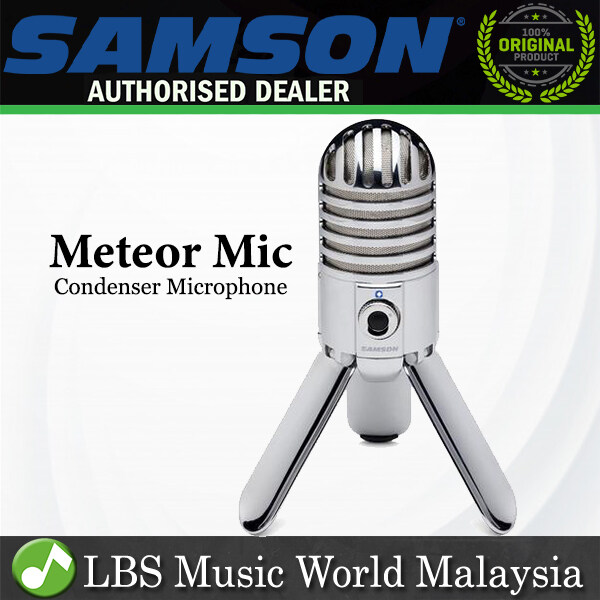 2 - Rode NT-USB (RM800)
The better option to go for if you have the budget. This microphone has a better, cleaner, and more solid sound that will just give your podcast the sparkle it needs.
What's great about the NT-USB is that it comes included with a pop filter as well. That's a device used to filter plosives when you speak. Plosives happen when you say words with the letters p, t, k; b, d, g, (like police) – in which a gust of air overloads the microphone.
A pop filter protects your recording from plosives.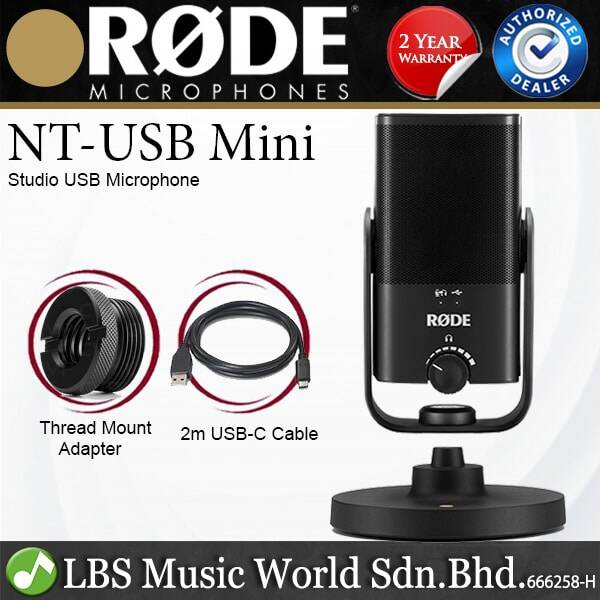 But I want to spend! I got more than RM1,000.
Okay, big boy. Want to go all out? We got you.
The thing about single microphone setups explained earlier, is that you cannot do multitracking. Simply put – multitracking is when you record two or more microphones.
E.g. When you have a guest over, you'll need two microphones going into your computer.
To do that, you'll need more than just one microphone. In addition to a microphone, you'll need an audio interface (basically a professional sound card) that allows you to record a few microphones on a single go.
Two audio interfaces I recommend for podcasting are:
Zoom PodTrak P8 (RM2,440)
The PodTrak P8 is an audio interface made for podcasters. You can record up to 6 microphones on it, and even live-mix sound effects and take a caller from a phone (Skype, Whatsapp, phone call) and mix it into your podcast.
Truly an overkill for most podcasters. But if you're planning to go big with podcasting, this is the one to consider.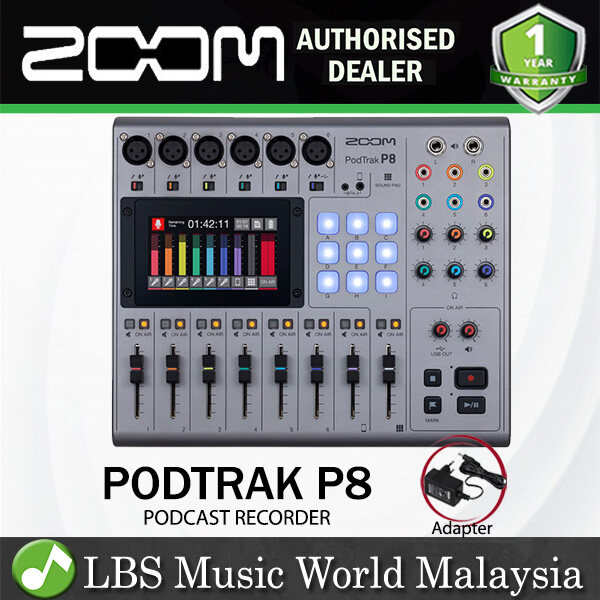 RODEcaster Pro (RM2,465)
Another option for podcasting. The Rodecaster Pro takes up to 4 microphones at a single go.
Plus, you get all sorts of features onboard, such as sound effects and transition cuts that you live mix into your podcast.
In my opinion, the RODEcaster Pro is more solidly built compared to the PodTrak P8. But at the expense of having fewer microphone inputs. Again, it's a little overkill for most starting podcasters.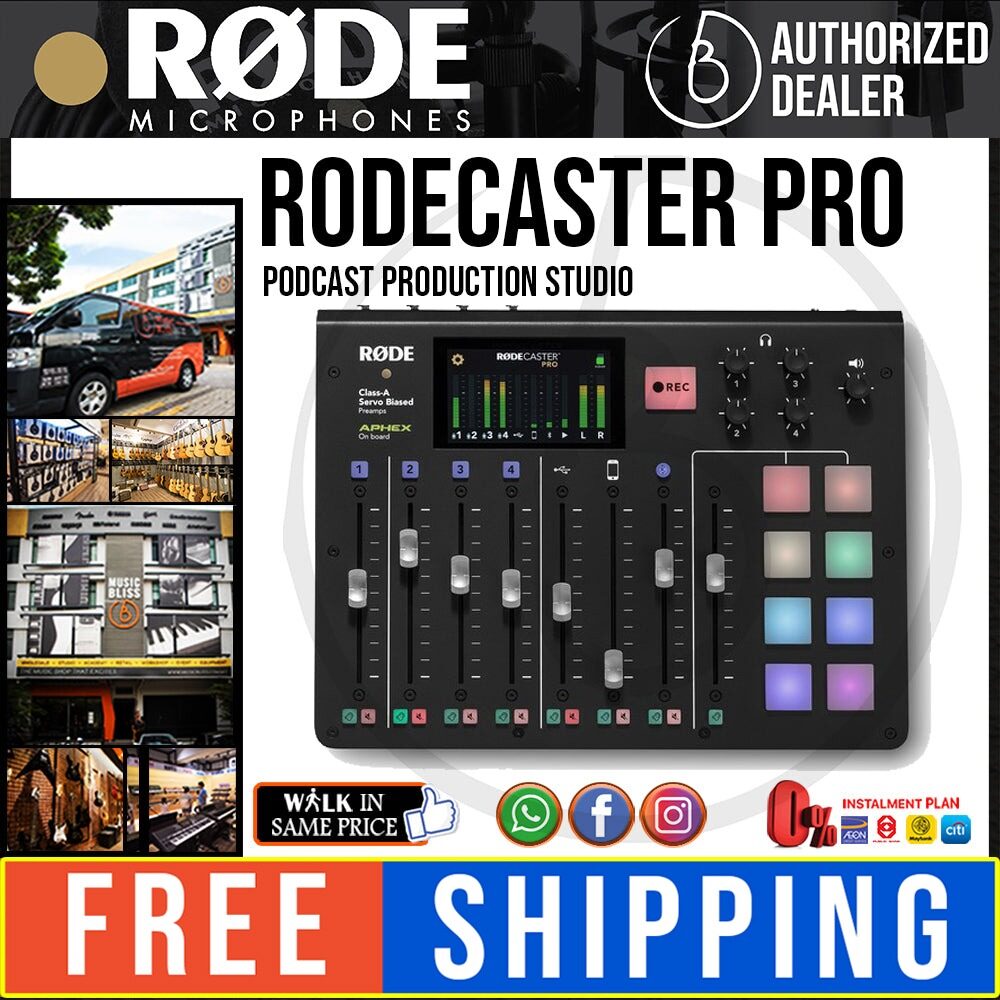 Post-production is everything.
Post-edits for your podcast might be even more important than the actual recording itself.
Yes, the impromptu and unplanned ness is what people stay on for.
But nobody wants to listen to a podcast with cringy lip smacks, unnecessary pauses, or random background noises.
Here are some tools that will be handy in your podcast journey.
AI podcast tools:
Inevitably, you'll need to use some audio editing software to edit as well. Here are some recommendations.
Audio software:
Audacity – Free audio editor. Almost as good as most paid audio editors.
Podbean – Freemium software. Allows you to record with its mobile app and sync with the editor. Publish your podcasts directly to Spotify.
Adobe Audition – Adding this here for the sake of adding. Audition is definitely overkill for the casual podcaster. But if you want more power, this should be it.
What about hiring a freelance editor?
Most definitely! If you're a business, it's smart to outsource the editing, so you can use your valuable time to work on your business.
Go to Upwork and search for a freelance audio editor. The rates start anywhere from RM130 per episode.
If you're a freelancer – there is an opportunity to offer podcast editing services for the growing market demand. Check out our interview with Kenny for some tips for freelancing.
A podcast quick-start guide.
So let's summarize how you can get started with podcasting.
1 - Identify your target audience.
Who are you reaching? Is it school teens? Middle age parents? Identify this.
Then figure out psychographics. What is the pain, fear, hopes, and dreams of the people you're reaching out to?
2 - Write down topics you want to dive into.
90% of podcasts don't get past episode 3. That's 1.8 million who quit.

Ouch.
What helps is to set up a content plan. Write down 3-5 podcast titles that you intend to record and schedule them. Get consistent.
3 - Set up an account on Anchor.fm
To get your podcasts on platforms like Spotify, you need to host your recordings somewhere. The easiest way to do this is to sign up for a free account on Anchor.fm and upload your podcast episodes there.
From the platform, you'll be able to publish to Spotify.
4 - Create a professional cover art.
There are over 5 million podcasts in the world. In the world of podcasts, people read books by their covers – so make sure you have an eye-catching podcast cover artwork.
Use tools like Canva to create one.
5 - Draft your podcast script.
What will make your podcast different from the rest? Look for the point of differentiation.
Generally, there are usually 3 content types that will pique interest:
Content that makes people go in awe.
Content that makes people angry.
Content that makes people need to click, listen or view. (Otherwise, they can't go to sleep.)
Design your content around one of the 3 themes above.
6 - Record your first episode.
Your first episode will suck. Go to your favorite podcasters and listen to their very first episode. It probably sucked.
Focus on progression. You will improve a little bit with every podcast you record. But you have to get started.
7 - Market your podcast.
Your job does not end the moment you upload your podcast to Anchor.fm and hit publish. In fact, the real work comes after you hit publish.
Share your podcast with your email list. Tell people about it. Add it to your email signature.
Put it everywhere people can find it.
Whew. What a post.
At the time of writing this post, podcasts are relatively fresh in markets like Malaysia.
This means there's an opportunity for you to become the first mover in this under-tapped platform – which is, showing all signs of growing.
Why are media companies like Astro launching their on podcast shows? It's a sign that even media giants want a piece of the podcast traffic.
---
Subscribe to Daily CMO and join our weekly podcasts on marketing and business, with interviews with key marketers in Malaysia.
Interested to be interviewed on Daily CMO? Drop us an email with the title "Daily CMO Friend".