Welcome to Marketing Mondays.
Barbenheimer is now a word. Two blockbuster movies simultaneously released. Two very different tones and subjects. One is heavily marketed. The other just quite mellow.
What a time to be alive.
Barbie marketing lessons – Got to admit. Amazing marketing.
What Liquid Death can teach us – About winning as a commodity.
Idea of the week – How to start a movement.
---
👯‍♀️ Barbie Madness
Even if you're not a fan, we've bet you've seen or heard about the Barbie movie. In the 2 weeks, we've seen: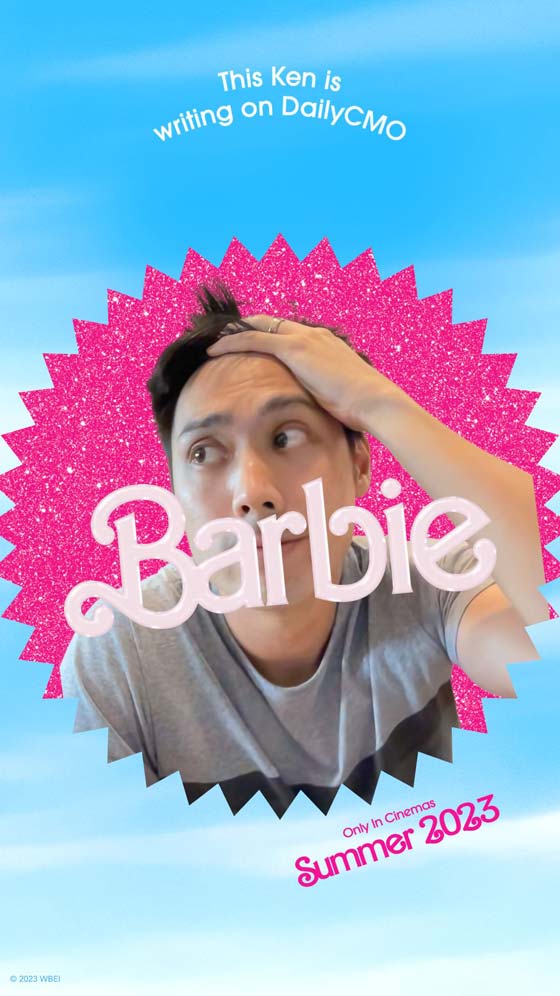 The question… is how? How did you know about the Barbie Movie – even if you weren't a fan?
Marketing. And lots of budget.
6 marketing lessons
We can learn from Mattel – the company behind Barbie.  
Be everywhere. Basically omnichannel marketing. How did you hear about Barbie? It's because their marketing team marketed everywhere – billboards, radio, social media, influencers. Digital marketing isn't the only channel.
Time advantage. The Barbie movie premiered in July – but we've started seeing it everywhere since April. Use time to build up awareness.
Leveraging UGC. Anyone can become a Barbie, on social media platforms like TikTok. Work with influencers to create a movement.
Partner up like mad. Barbie brand partnerships are everywhere. Nike, Zara, Crocs, Cotton On, Burger King, Fossil, Aldo. Barbie leveraged its partner's audience to reach more people.
Include diversity. The cast in the Barbie movie – included Helen Mirren, Issa Rae, Ncuti Gatwa, and many others from different races, ethnicities, professions & body types. This brought more relatability to different types of audiences.
Expand your brand beyond the core product. Barbie's core product is... well, Barbie dolls. But they've added more value by expanding into other products – like a movie.
And one bonus lesson.
Marketing is not about good products. (It's perception)
Question: Is the Barbie Movie really good? Or is it just great marketing?
We've not watched it, so no comments.
But columnist, Ben Shapiro (video below) has been quick to criticize the movie.
Some of his key points:
Barbie Movie is NOT for children. Yup, you thought it was. But nope. It's PG-13 rated and the content's not for children.
The movie was filled with feminist propaganda.
Plot and character are weak.
Moral of the story: Men make the world a horrible place. (huh?)
No doubt the marketing was amazing. The hype is there. Then again, marketing is a battle of perception. Not great products.
Learn Mattel's marketing lessons. But watch the movie at your own risk. You've been warned.
---
🍺 How to win in a commoditized market
Starting a commodity business is something every business guru will frown upon. But yet, we see plenty of successful brands.
Aleksandr Volodarsky from Lemon.io shared a tweet thread about how Liquid Death became the fastest-growing beverage of all time.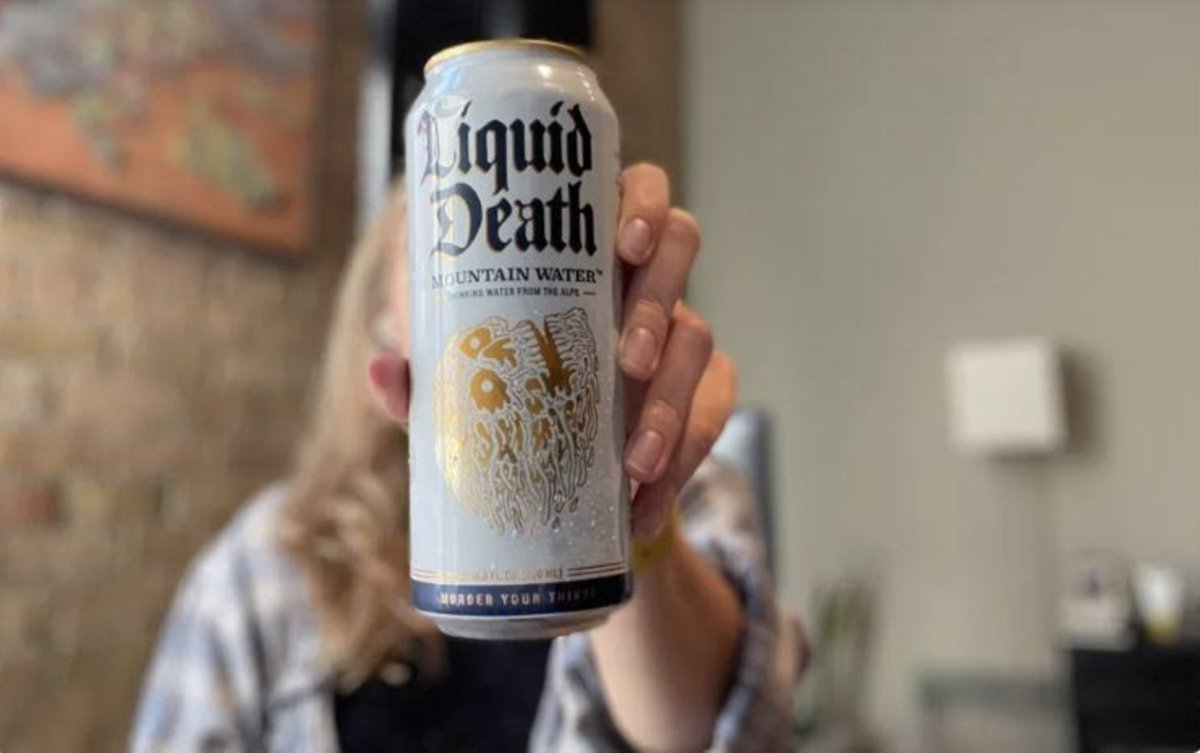 It sells water in a beer can.
USD$700M valuation
On track to do $250M/yr in revenue.
Here's the breakdown.
1/ Create a unique positioning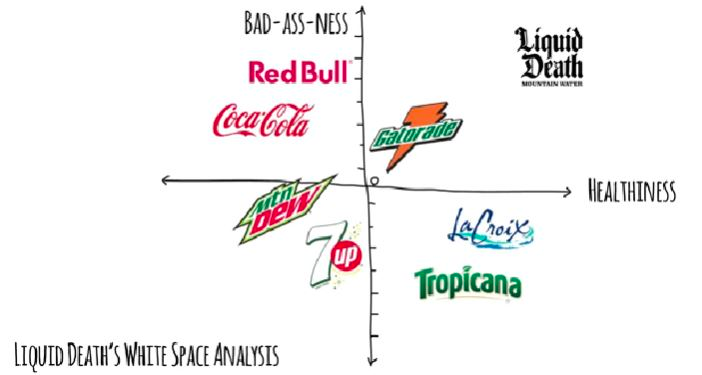 Instead of selling water quality, Liquid Death makes water sound exciting, dangerous, and weird through marketing.
2/ Differentiate
Liquid Death is a weird product. The name is weird. Their slogan is "Murder your thirst". Their logo is a skull.
Their viral ad was weird (and different):
People pay attention to what's sticking out, not what's better.
3/ Purposeful marketing
Instead of just being cool and different, Liquid Death uses aluminum cans instead of plastic, which is recyclable.
Part of their profits go back to fighting plastic pollution.
When you include a purpose in your brand, people with the same purpose become empowered and build an affinity with your brand.
4/ Exclusivity
People love luxury products mainly because of its exclusivity.
Liquid Death has a membership called Liquid Death Country Club where its members have access to merchandise, private shows, and other perks.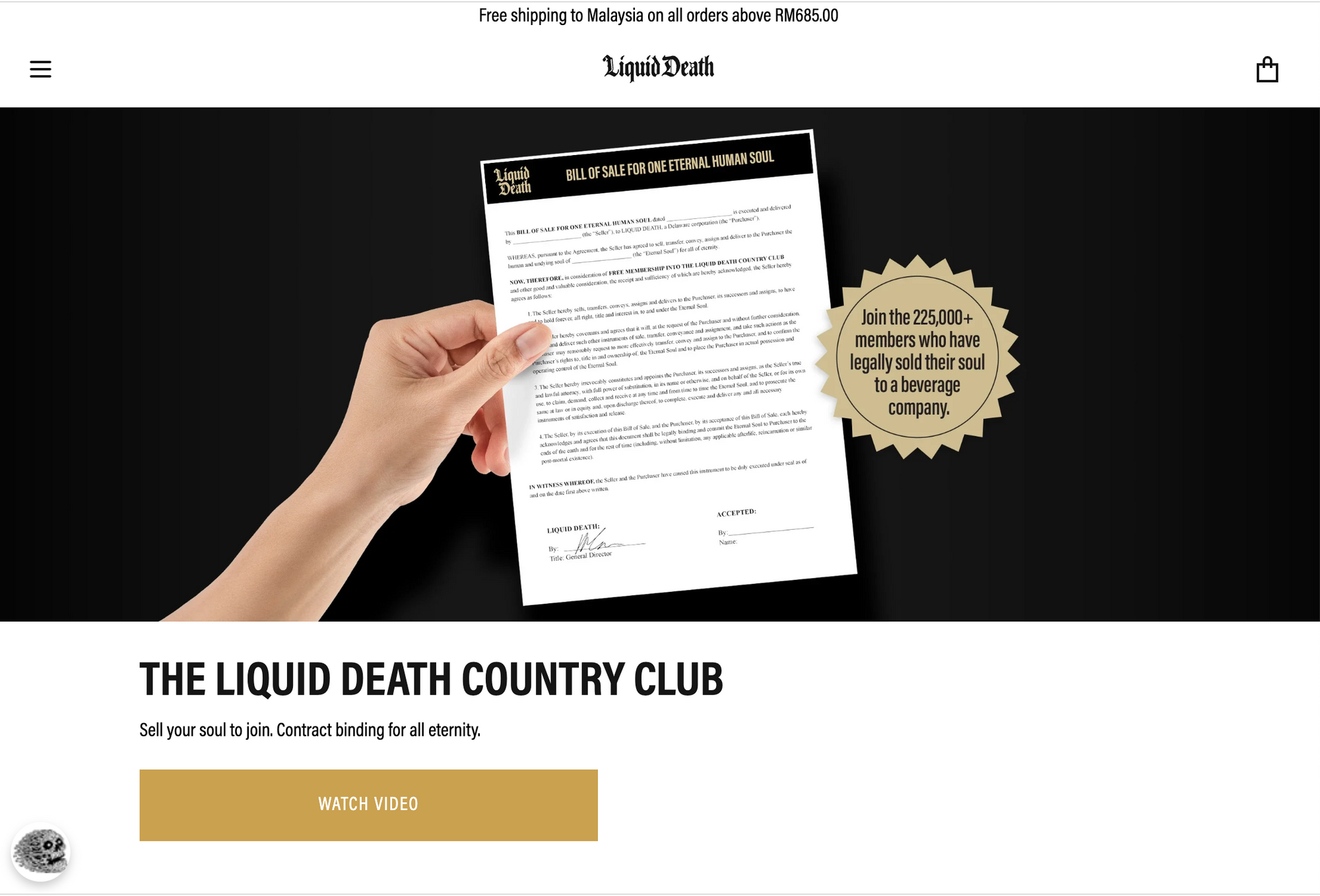 5/ You don't have to please everyone
Liquid Death has a cult of supporters.
At the same time, they also have plenty of haters. That's OK. They don't have to please everyone.
Focus on your fans and improve your brand accordingly.
The most important takeaway: Differentiate your brand. If you can't be first, create a new category and be first in it.
⭐️ More Nuggets
Marketing-related stuff you should know about:
💬 Idea of the week
Here's a masterclass on starting a movement under 3 minutes:
---