Welcome to Marketing Mondays. (again on a Tuesday...shucks).
I know, I know. We've been late. Over the weekend, I had the opportunity to visit Toscana Valley in Khao Yai. The design of the place is inspired by Italy – there's even a 'leaning tower of Pisa'. The view? Simply breathtaking.
The stay there has given me new marketing & business perspectives (although it made me late on the newsletter). Anyhow, I hope you'll put schedule some travel for yourself this year. Go experience more things.
Anyway, here's the scoop this week:
Rational vs emotional – Do we really make decisions based on data? Or are we lying to ourselves?
When there's a gold rush. Sell shovels – The latest craze of AI marketing experts.
Revisit your brand strategy – With a free template by 99designs.
---
📍 People... we aren't rational.
I read a quote cited in The Hustle:
You don't reach people through rational information. You reach them through emotional, trans-rational connections that come through music, food, art, dance, and culture. – Paul Rockower.
Isn't this it?
We were trained (mostly) by ad platforms (Facebook, Google, etc.) to be data-driven. Data is truthful. But most of the time, humanity picks narrative. 7 out of 10 CEOs ignore data and trust their guts.
We like to think we're rational. But we aren't.
We know a Toyota is likely to be more reliable than a Volkswagen. So why are there still so many VW cars on the road?
Just tell any new VW car owner about how unreliable the car is – and they'll give you 101 reasons why you're wrong.
Did they buy a VW car out of rationality? No. They bought it out of a story they told themselves. "I'm different.", "I admire and love German engineering", "The rumors about VW cars breaking down aren't true"... whatever.  
So... if we know people (our customers) are irrational. Why the heck are we still trying to market to them rationally?
Oh, our product is made better.
Our yogurt contains less fat!
Our accounting software syncs with your bank.
We aren't rational. Tell stories to reach your customers.
Tell better stories: Watch Richard Ker's talk from Underdog Ad Con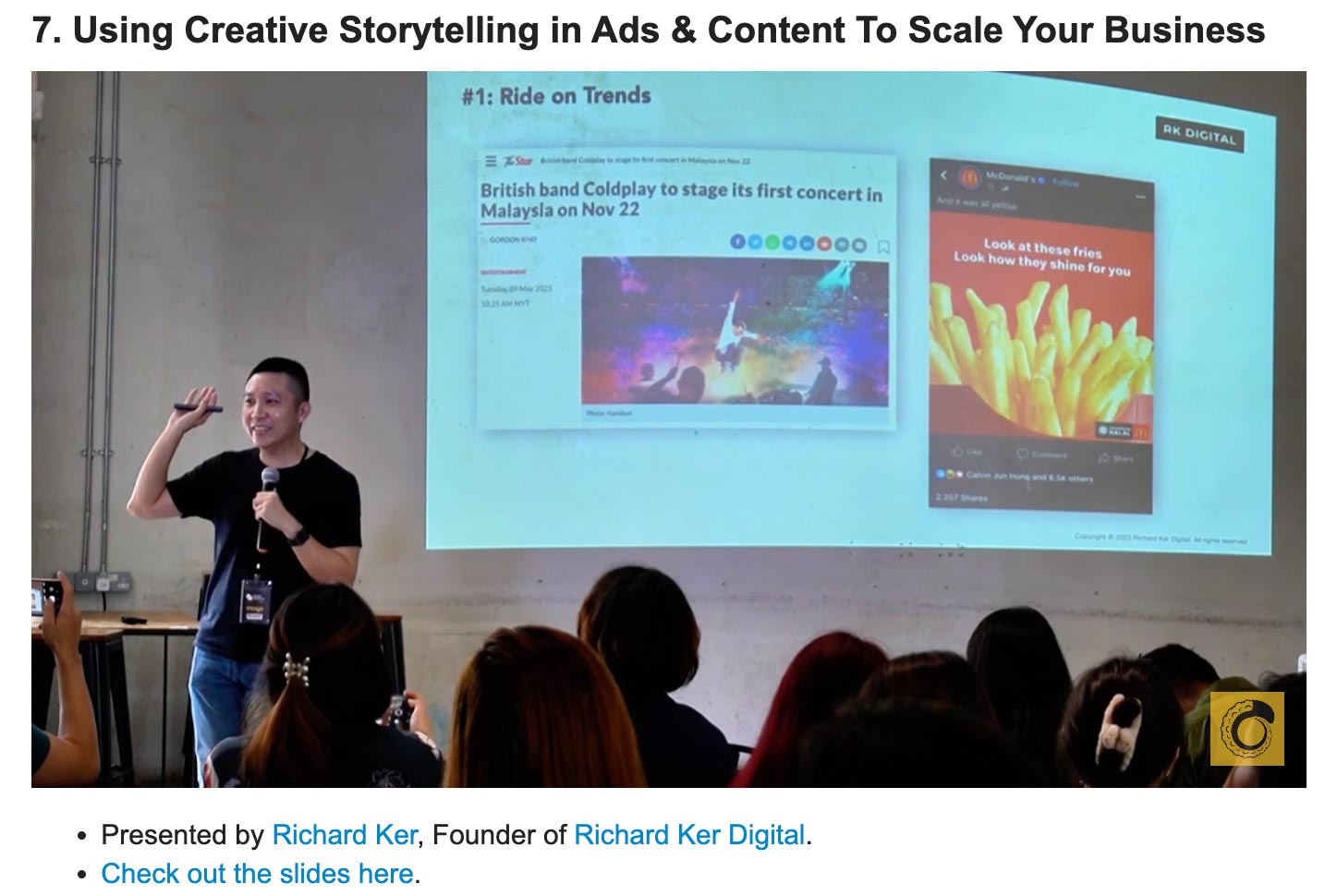 ---
📹 Video takeaway of the week:
You want to look for the correct businesses to work for.
Part of being a successful marketer – is to be selective of the company you work for.
Which one is more impactful? Increase social media subscribers by 10% for a small kindergarten or a multinational company?
Increase subs by 10% for a multinational company and you'll be social media marketer of the year. Increase 10% for a kindergarten, and they'll ask you why your social media work isn't driving them sales.
The work you do might be the same. But at different playgrounds, the impact is different.
Watch or Listen: YouTube/Spotify.
---
🪚 When there's a gold rush, sell shovels.
Anyone claiming to be an AI marketing expert right now – is probably lying.
Here's why:
Tools and AI are changing too fast.
They have been only available for a few months.
There are more and more tools every day.
Nobody is an expert...yet. Not even the people who developed the 'AI'.
So what these 'AI marketing experts' are more specifically, is that they are opportunists. They play on the fear and hype to fill their pockets.
Remember the tea company that increased its shares by 500% by adding "blockchain" to its name? It's kind of the same right now with AI.
To learn something, don't merely read about it. Use it and explore it on your own. Join a few communities and discover.
Few tools you can start exploring today:
Lots of money will go into the current "figuring out" stage. Yes, be on your toes. And be on learning mode. But don't fall into the FOMO of AI marketing.
---
⭐️ Nuggets.
---
📝 [Resource] Brand strategy template
As the marketplace gets messier – your customers will buy from brands they love and share the same values with.
That's why it's essential to build a brand. And not just sell stuff.
Use this branding worksheet to figure out your business's brand.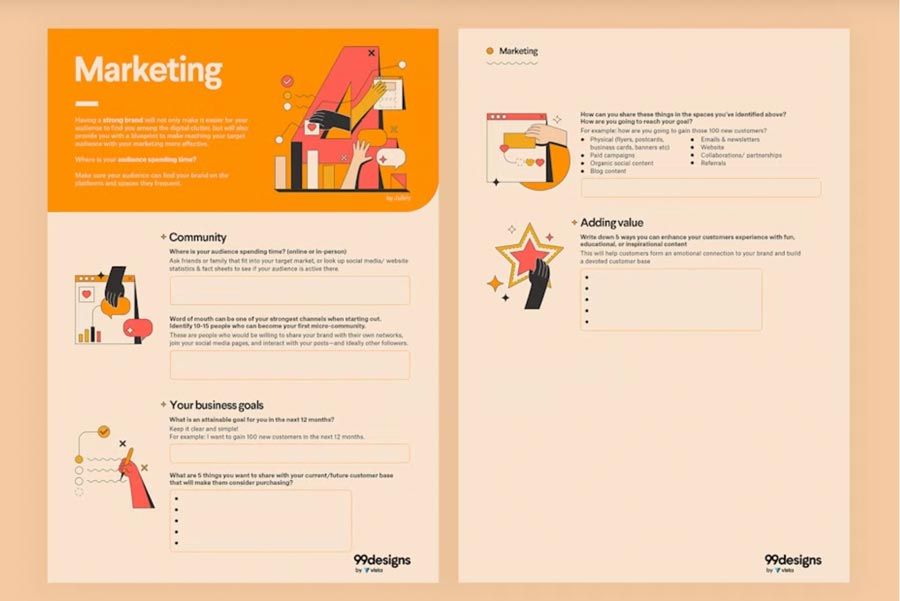 Access: Brand strategy template by 99designs
---
DailyCMO updates.
1. Support the DailyCMO newsletter
By getting an Underdog Essential Tee - you provide us with the opportunity to continue writing this newsletter and provide you with weekly marketing nuggets.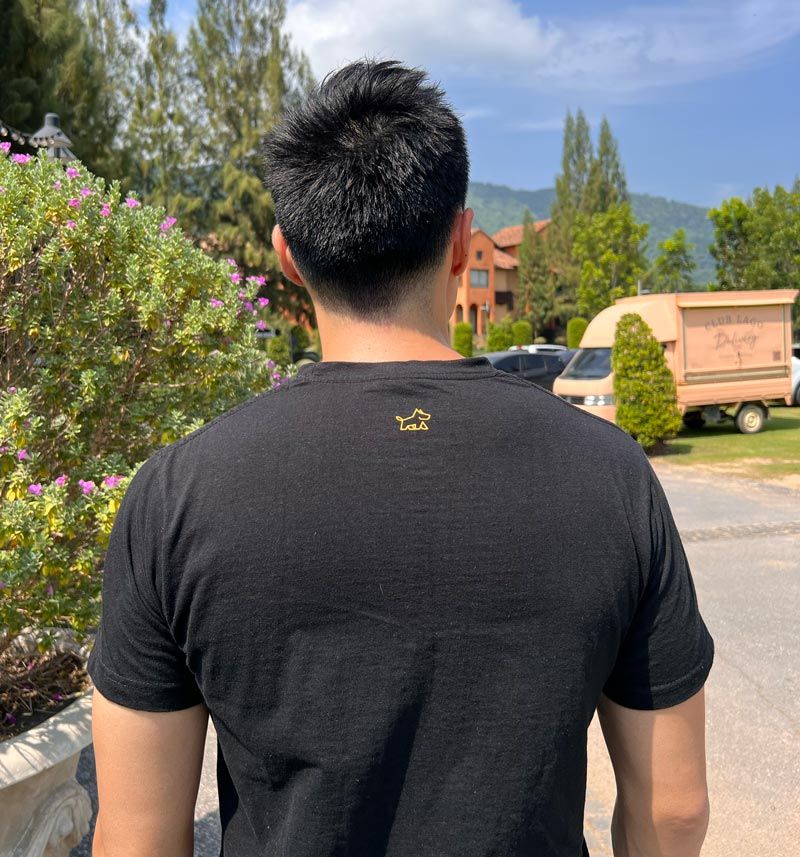 2. Freelance copywriters needed.
This is a snippet from Circle - the Daily CMO's community. You can join for free currently.

Sharing this opportunity with all Daily CMO readers. Just reply to me here or in the Circle – and I'll connect you with them
---